Chapter Excerpt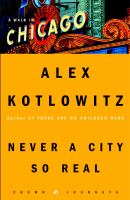 Never a City So Real

My father-in-law, Jack Woltjen, sold eucalyptus oil. He hawked it in two-ounce bottles at flea markets and county fairs. He took orders over the phone and then the Internet, and convinced local health stores to carry it. And he handed out samples to friends and strangers alike, including to his neighbors and the UPS man.

Jack named the oil, which was extracted from an Australian eucalyptus tree, V-Vax, derived from the Latin word vivax, which means tenacious for life. He believed it soothed bee stings and burns, that it cured everything from the common cold to kidney stones; he was also convinced that it helped slow the progress of AIDS. A confident, easygoing man who rarely got flustered, Jack could—and did—persuade almost everyone he met of V-Vax's curative properties. My wife, to this day, uses it for cold sores. Because the medicinal oil would eat through plastic, Jack had to package it in glass bottles. But he made a point of tell- ing anyone who'd listen that he drank the stuff. Every morning, he poured a few drops into his orange juice. "I down it like a shot of whiskey, just like John Wayne," he once told a reporter for a local weekly.

Chicago, after all, is a place of passion and hustle, or as the early explorer René-Robert Cavelier, sieur de La Salle, wrote: "The typical man who grows up here must be an enterprising man. Each day as he rises he will exclaim, 'I act, I move, I push.' " And so my wife's father was celebrated here, for his entrepreneurial spirit and for his unwavering belief in himself. One of Jack's longtime friends told me, "I was never completely convinced of the healing power of V-Vax, but Jack was such a strong and caring person, and he never seemed to have any doubt that just his touch would have a healing effect, eucalyptus oil or not. He used to persuade elderly women that V-Vax had restorative powers. He didn't do this disrespectfully—he really believed it. He wasn't conning anyone. He said the women loved the feel of it on their hands."

Jack was a ruggedly handsome man, and I can easily imagine those elderly women swooning over him. At six foot two, he was built like an oak, firm and straight-backed. Even into his seventies, he ran five miles a day. He had an open and empathic face, and more often than not he was in high spirits. He also had an uncanny ability to make everyone feel as if he shared a special intimacy with them. Even when Jack got angry, which was usually out of indignation rather than due to some personal slight, his eyes still flickered with a measure of mischievousness.

Jack did things his way. He hung posters of paintings by the masters in his house, and while he thought that these works were good, they weren't as good as they could be. In a Matisse, he whited out a line which he thought didn't belong. In a Gauguin, he added a cat. Just about all Jack listened to was Pink Floyd, and at his funeral, his children played The Wall on a boombox, much to the priest's dismay.

Jack, who died in 1999, personified the city, a place eternally in transition, always finding yet another way to think of itself, a city never satisfied. It's a city marked by its impermanence, though unlike, say, Los Angeles, which is regularly scorched and scarred and shattered by natural forces, Chicago's metamorphoses are generally shaped by human hands, the Great Fire of 1871 notwithstanding. It's a practical place—a city of necessity—where man has actually beaten nature. In 1900, for instance, when it became apparent that the sewage flowing from the Chicago River into Lake Michigan might contaminate the drinking water, the city simply reversed the flow of the river.

Jack loved the city for its ingenuity, as well as for its easygoing demeanor. "I can't see why anyone would want to live anywhere else in the world," he used to say. And he relished its tussles, large and small. He hustled, peddling his V-Vax, embracing the underdog, finding ways to reinvent himself—not for the purpose of self-aggrandizement, but rather because life is short and sometimes another path seems enticing and just worth the try.

Jack was born in Chicago, where he spent much of his youth (minus some years in Green Bay, Wisconsin). Raised a devout Catholic, in his twenties he entered Gethsemani, a Trappist monastery in the blue hills of Kentucky. His novice master was the theologian and author Thomas Merton. Gethsemani required a vow of silence, and at dinner if you wanted salt, you had to stare hard at the shaker until another brother noticed. One day, cutting down a tree, Jack couldn't contain himself. He held his head back and roared, "Timber." After that, his days at the monastery were numbered. Within a couple of years, he had married, and he and his young wife, Fran, who herself had just spent a year in a monastery, opened a Catholic Worker farm in eastern Missouri for recovering alcoholics.

Jack and Fran eventually had nine children together, and found their way back to Chicago, where they settled in Austin, a neighborhood at the city's farthest western reaches, a collection of woodframed single-family homes and grand-looking churches. The eleven of them lived in a three-bedroom home with one bathroom. Shortly after they moved in, in 1965, the complexion of Austin changed virtually overnight. As black families began buying into the neighborhood, realtors, in a scheme that became known as "blockbusting," deliberately frightened whites into selling. Blockbusting was a rather simple yet utterly destructive tactic. First, a realtor would buy a home on an all-white street, and move in a black family. Then, the white families on the block would panic, selling their homes to the realtor at bargain-basement prices. The realtor would then make a hefty profit by turning around and selling them to more black families. But Jack and Fran insisted on staying in Austin, and they made a show of it, joining civil rights marches through Chicago's segregated neighborhoods.

My wife remembers one rally her father took her to, where, at the age of ten, she clutched Ralph Abernathy's hand, trying to hide her face from her best friend's father, who was screaming racial epithets at the marchers from the curb. "Go-a back-a where you came from," the angry refugees from Eastern Europe's communism yelled at the blacks, refugees themselves, from the Jim Crow south. This city is the story of newcomers, the Irish, Poles, Croats and Serbs, Mexicans, and more recently Asians and Africans, but in the end it's defined by race, by a history that is by turn ugly and celebratory, from the 1919 race riots to the 1983 election of the city's first black mayor, Harold Washington. Even milestones such as Washington's election come at a cost; it was marked by the ugliest and most divisive of campaigns, in which Washington's opposition rallied voters with the slogan, "Before It's Too Late."

In the 1960s and '70s, white landlords wouldn't rent to blacks. Jack didn't think that was right. And so he did what he could to force their hand. Working for a local fair housing organization, Jack invented "testing"—a benign ap- pellation, given the ugliness it uncovered. A black couple would try to rent an apartment and inevitably be turned down. Then Jack and a colleague posing as his wife would try to rent the same place, usually successfully. A lawsuit would follow. Among the white parents in the neighborhood Jack became known as "the underground spy for the spooks," an accusation he was perfectly comfortable with.

Jack eventually gave up that work to sell his V-Vax, as well as a lens cleaner that he liked to boast was used by NASA. Jack and Fran divorced in 1975, and a few years later, he and his new wife bought a three-flat on Elston Avenue, along the Chicago River. (Long before it was popular, Jack would launch his wood canoe from the riverbank nearby, pushing past the used condoms and floating beer bottles. Today, it's considerably cleaner and you can rent not only canoes but, no kidding, gondolas.) Jack bottled the V-Vax in his garage, running feeder tubes down from twenty-five steel drums that he stored on the second floor of his home. On holidays, the family would gather at the house on Elston Avenue, and Jack would regale us with stories of his antics, most of which we knew by heart.

Jack always, it seemed, pursued oversized ventures. Once the columnist Mike Royko held a kite contest along Lake Michigan, and Jack built one so large that the string tore the skin from his children's hands. (My wife remembers her father planning to use the kite to tow his canoe across the lake, but she can't recall whether, in fact, he ever tried it.) Another time, he hooked up the family's Alaskan malamute, Michi, to a sled he built, and had him pull two of the girls. He was so proud of this achievement that he called the Chicago Daily News, which ran a photo on its front page. Jack liked to boast that he was the one who first raised questions about the killing of the Black Panthers' twenty-one-year-old Fred Hampton and twenty-two-year-old Mark Clark. On December 4, 1969, thirteen policemen stormed the young men's West Side home. The police contended that the Panthers had opened fire on them, inviting newspaper reporters to come take pictures of the bullet holes that had allegedly come from the Panthers' firearms. The police, undoubtedly feeling cocky about their conquest, kept Hampton's home open; in the following days, lines of people paraded through the apartment, including Jack—who, upon examining the contour of the "bullet holes," realized they'd been made by a hammer and nail. Jack said it was he who alerted the newspapers, and, indeed, a subsequent FBI investigation found that the Panthers had fired one bullet whereas the police had fired as many as ninety-nine.


From the Hardcover edition.

---

Excerpted from Never a City So Real: A Walk in Chicago by Alex Kotlowitz
All rights reserved by the original copyright owners. Excerpts are provided for display purposes only and may not be reproduced, reprinted or distributed without the written permission of the publisher.