Chapter Excerpt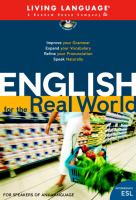 ENGLISH FOR THE REAL WORLD teaches English the way you hear it on the streets, in restaurants, at the movies, and at parties: it's the English of your friends and co-workers. English for the Real World will help you:MEET people and make friends.SPEAK with ease and confidence on the telephone.SUCCEED in job interviews.GET BY at the airport, the bank, the post office— just about anywhere!

---

Excerpted from English for the Real World by Living Language
All rights reserved by the original copyright owners. Excerpts are provided for display purposes only and may not be reproduced, reprinted or distributed without the written permission of the publisher.