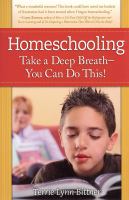 Here is a secret, one hardly anyone--even other homeschoolers--will tell you: Homeschooling parents do not need to be smart to teach their children. They don't even need to be educated as teachers. Many public school teachers say that the majority of their training is in discipline or multiculturalism, not education, and many teach outside their majors. Many of them also teach without a credential. While it's probably best to be reasonably literate, you can teach your child even if you have no idea how to multiply fractions or use a microscope. How can this be true?





Homeschooling parents need the ability to learn, not the ability to teach or even the ability to do the subject matter. If you don't know how to use your new microscope, read the directions and figure it out. Let your children read the directions and figure it out for you. Invite someone over who does know how to use a microscope.



Very few of us remember every detail of our own educations. However, our counterparts employed by the public schools don't remember either. Many professional teachers have scrambled to find a literary analysis of Shakespeare before they could teach it to their students, possibly because they were history majors who found themselves assigned to an English class. No one knows everything. . . .





Stop worrying about what you don't know. If you and your child spend a few hours struggling over three different math books and a Web page until you both understand how to multiply those fractions, you can count it as the best of quality time. My children still talk about some of those days, especially the times they were the ones who figured it out and explained it to me. They didn't think less of me because I didn't already know. They just thought more of themselves for participating in the solution.



---

Excerpted from Homeschooling: Take a Deep Breath-You Can Do This! by Terrie Lynn Bittner
All rights reserved by the original copyright owners. Excerpts are provided for display purposes only and may not be reproduced, reprinted or distributed without the written permission of the publisher.