Chapter Excerpt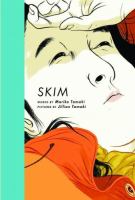 Dear Diary,Today Lisa said, "Everyone thinks they are unique." That is not unique!!

---

Excerpted from Skim by Mariko Tamaki
All rights reserved by the original copyright owners. Excerpts are provided for display purposes only and may not be reproduced, reprinted or distributed without the written permission of the publisher.