Chapter Excerpt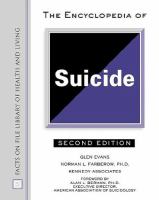 Statistics show that approximately 11 out of every 100,000 Americans commit suicide each year. In 1999, according to the Centers for Disease Control and Prevention, more teenagers and young adults died from suicide than from cancer, heart disease, AIDS, birth defects, stroke, and chronic lung disease combined. That year there were 1.7 times as many suicides as homicides, and suicide was the third leading cause of death for young people aged 15 to 24.
A comprehensive A-to-Z introduction to the phenomenon of suicide from ancient times to the present, The Encyclopedia of Suicide, Second Edition is a heavily expanded, updated, and revised edition of this topic. The encyclopedia covers a wide range of aspects, including the causes, history, and psychology of suicide. Presenting more than 500 entries that detail the philosophical and religious issues, psychological and sociological viewpoints, and recent statistics, it also discusses new trends in research and treatment. Extensive appendixes provide national and international suicide statistics and resource directories listing associations, clinics, and hotlines.

---

Excerpted from The Encyclopedia of Suicide by Glen Evans, Norman L. Farberow
All rights reserved by the original copyright owners. Excerpts are provided for display purposes only and may not be reproduced, reprinted or distributed without the written permission of the publisher.