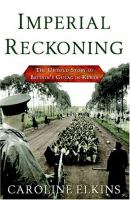 From Imperial Reckoning:"The colonial propaganda machine, once well-oiled, preyed on the detainees' doubts and fears. Pamphlets in the vernacular, pointing out how misguided was the detainees' belief that African land had been stolen by the British, were circulated throughout the compound. At the same time, loudspeakers blared warnings about ongoing land confiscations, describing how land taken from Mau Mau sympathizers was being redistributed to those loyal to the British cause. "Confess and Save Your Land," was one public broadcast played throughout the Pipeline, and it is bitterly remembered by many of the former detainees today. So too are photographs of Her Majesty Queen Elizabeth in full regalia, which were displayed alongside images of Jomo Kenyatta in shackles, wild-haired and looking rather dazed and pathetic. The contrast between civilization and savagery could not have been more stark."
---

Excerpted from Imperial Reckoning: The Untold Story of Britain's Gulag in Kenya by Caroline Elkins
All rights reserved by the original copyright owners. Excerpts are provided for display purposes only and may not be reproduced, reprinted or distributed without the written permission of the publisher.