Chapter Excerpt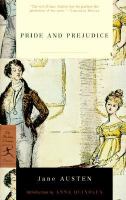 Acclaimed to be the greatest novel ever written, the Story of Mrs. Bennet's finding husbands for her daughters is told with wit and charm. A must for lovers of good literature.

---

Excerpted from Pride and Prejudice by Jane Austen
All rights reserved by the original copyright owners. Excerpts are provided for display purposes only and may not be reproduced, reprinted or distributed without the written permission of the publisher.