Chapter Excerpt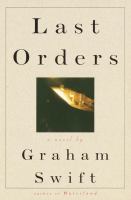 Winner of the Booker PrizeResonant, distinct, irresistible . . . both convincing and extraordinarily intimate. —Washington Post Book WorldIn a London pub called the Coach and Horses, four men gather. Most of them have been friends for half a lifetime, having fought in the same war, drunk in the same pubs, and bet on the same horses. Now they have come together to deliver the ashes of a fifth man, Jack Dodds, to the sea. Their journey, which will take them deep into their collective and individual pasts, lies at the center of Graham Swift's astonishingly moving novel of friendship, memory, and fate.As Swift follows Ray, Vic, Lenny, and Vince on their errand—one whose solemnity is undercut by the participants' sheepishness and irrepressible humor—he braids their voices into a choir of secret sorrow and resentment, passion and regret. And what emerges is an elegy not only for Jack but for a vision of a changing England. Beautifully written, faithful to the rhythms of the human voice and the daily truths of human life and death, Last Orders is a triumph.

---

Excerpted from Last Orders by Graham Swift
All rights reserved by the original copyright owners. Excerpts are provided for display purposes only and may not be reproduced, reprinted or distributed without the written permission of the publisher.