Chapter Excerpt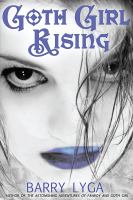 OneMy mother and I both spent a lot of time in hospitals. Unlike her, I survived.Before she went and died, my mom told me to stop bitching about my cramps all the time. "It's nothing that every other woman on the planet hasn't gone through," she said.And besides, she went on, your period is a good thing. It's a sign that you're alive and healthy.Easy for her to say—cancer was eating her lungs from the inside out, so what's the big deal about some cramps, right?Still, I knew that what I was experiencing wasn't right or normal. It wasn't what other girls were feeling every month. (I know—I asked around.)Weird thing, though: After she died, my cramps sort of got better. It's not like they went away; they just stopped being so intense and so consuming. I started to think that, OK, maybethisis what other girls felt. Like I had been abnormal before, but now I was somehow becoming normal, that now the world was working properly and everything was good and normal and usual.Everything except my mom'sface . . .

My mom's face before they closed the casket looked like a Barbie doll's.A Barbie doll someone had left in the sandbox too long.All plasticky and too shiny, but somehow gray at the same time.And then one day after the funeral—it was a pretty nice day, too—I took a box cutter from my dad's workshop and slashed across my wrist. It hurt, but not that much. Not bad at all.So I slashed the other one, too.And that's how I ended up in the emergency room and then in front of a judge and then locked up in a mental hospital.That was my first time in the hospital. And I got out and I covered up my scars and I went on with my life and I tried to figure out what it was all about, and I'mstilltrying to figure it out.But it just gets more and more complicated all the time. Every day. The world doesn't slow down long enough for you to figure out anything; it keeps adding things in. Things like geeky guys and comic books and comic book conventions and effed-up teachers and . . .And another stay in the hospital.

---

Excerpted from Goth Girl Rising by Barry Lyga
All rights reserved by the original copyright owners. Excerpts are provided for display purposes only and may not be reproduced, reprinted or distributed without the written permission of the publisher.