Chapter Excerpt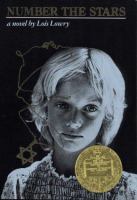 Ten-year-old Annemarie Johansen and her best friend, Ellen Rosen, often think about the way life was before the war. It's now 1943, and their life in Copenhagen is filled with school, food shortages, and the Nazi soldiers marching in their town. The Nazis won't stop. The Jews of Denmark are being "relocated," so Ellen moves in with the Johansens and pretends to be part of the family. Then Annemarie is asked to go on a dangerous mission. Somehow she must find the strength and courage to save her best friend's life. There's no turning back. Lois Lowry has written over twenty young adult novels and has received numerous awards, including the prestigious Newbery Medal for The Giver and Number the Stars. The Giver, its companion Gathering Blue, and Messenger, as well as The Silent Boy, are also available on audio from Listening Library. Blair Brown has appeared on Broadway in countless productions. Most recently she won the Tony® Award for her performance in Copenhagen. Her film credits include Random Hearts, The Astronaut's Wife, and Strapless. Ms. Brown received five Emmy® nominations for her title role in the award-winning series The Days and Nights of Molly Dodd.

---

Excerpted from Number the Stars by Lois Lowry
All rights reserved by the original copyright owners. Excerpts are provided for display purposes only and may not be reproduced, reprinted or distributed without the written permission of the publisher.