Chapter Excerpt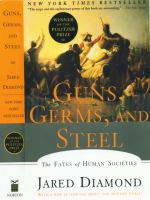 Why did Eurasians conquer, displace, or decimate Native Americans, Australians, and Africans, instead of the reverse?In this groundbreaking work, evolutionary biologist Jared Diamond stunningly dismantles racially based theories of human history by revealing the environmental factors actually responsible for history's broadest patterns. It is a story that spans 13,000 years of human history, beginning when Stone Age hunter-gatherers constituted the entire human population. Here is a world history that really is a history of all the world's peoples, a unified narrative of human life.

---

Excerpted from Guns, Germs and Steel: The Fates of Human Societies by Jared M. Diamond
All rights reserved by the original copyright owners. Excerpts are provided for display purposes only and may not be reproduced, reprinted or distributed without the written permission of the publisher.