Chapter Excerpt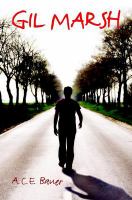 1

Gil Marsh

First day of school. Coach yelled from across the field. "Marsh! Meet our latest recruit."

Gil stopped stretching and jogged over. Coach spoke to a boy dressed in a running tank and shorts. Thick black hair covered the boy's knuckles and arms. It poked out from his chest, his shoulders and neck. It covered his legs. A beast boy, Gil thought.

". . . help you out. He's one of our best runners." Coach turned to Gil. "Marsh, this is Enko Labette. He's from Quebec."

Hmph. Gil wasn't one of the cross-­country team's best runners. He was the best. No one else came close. He had led James E. Uruk High School to Nationals two years in a row.

"Hi," Gil said.

Enko extended his hand in an oddly formal gesture. Gil shook it.

Enko had a powerful grip—­a ring on his pinky finger dug in slightly. He smiled, producing a deep dimple in his chin. He was trying hard to impress.

Well, let's see what the beast boy could do.

"You follow me," Gil told him.

He started the warm-­up jog just a notch faster than usual. Enko didn't break a sweat.

"Round the back, over the Rock!" Coach yelled to the team. "No clock today. Keep to the running trail. I want it clean and even."

Clock or no, Gil took off, in a sprint now, almost at racing speed.

Enko followed.

They circled around the back of the school to one of the paths along the Green Valley Creek, over the footbridge to cross the water, then up the side of Overhang Rock. The other boys lagged behind.

Overhang Rock stood three hundred feet above town. Made of exposed, weathered red stone, it had a war memorial at the top, erected some ninety years ago by a veterans' group. A running trail wound alongside a road that led to the memorial.

Gil ignored the running trail and chose a hiking path that switchbacked in the other direction, zigzagging at sharp angles around and up the other side of the Rock. At a walk, the trail provided a small challenge. At a run, it required all your concentration to get from one boulder to the next without falling. Gil could do the path in the dark—­had done so numerous times. Enko, much to Gil's surprise, took to it as if he could run it blindfolded.

By the time they reached the Memorial, sweat trickled down Gil's back.

"We follow the road down," he said. "Safer that way."

Enko nodded. He wasn't the least bit winded. Who was this kid?

Gil sprinted even faster downhill.

When they returned to the field behind the high school, Coach was waiting for them. "What the hell is the matter with you, Marsh? I said the running trail, not the climbing one!"

Gil leaned forward, hands on his thighs, panting. This had been more of a workout than he had expected. Enko breathed a little harder, too, but wasn't out of breath.

"It's okay, Coach," Enko said. He had this weird French accent. "That was fun."

Fun!

Coach scowled. "Maybe Marsh can learn something from you." He might have said more, but off in the distance two runners trickled onto the field.

"Cool-­down walks!" he yelled. "Everyone," he added pointedly to Gil.

When Coach turned to address the other boys, Enko slapped Gil on the shoulder. Gil walked ahead, ignoring the gesture. Beast Boy had just outperformed him. No one had done that before. And Coach had noticed.

---

Excerpted from Gil Marsh by A. C. E. Bauer
All rights reserved by the original copyright owners. Excerpts are provided for display purposes only and may not be reproduced, reprinted or distributed without the written permission of the publisher.