Chapter Excerpt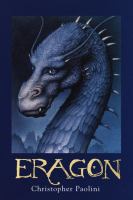 When Eragon finds a polished blue stone in the forest, he thinks it is the lucky discovery of a poor farm boy; perhaps it will buy his family meat for the winter. But when the stone brings a dragon hatchling, Eragon soon realizes he has stumbled upon a legacy nearly as old as the Empire itself. Overnight his simple life is shattered, and he is thrust into a perilous new world of destiny, magic, and power. With only an ancient sword and the advice of an old storyteller for guidance, Eragon and the fledgling dragon must navigate the dangerous terrain and dark enemies of an Empire ruled by a king whose evil knows no bounds. Can Eragon take up the mantle of the legendary Dragon Riders? The fate of the Empire may rest in his hands... Christopher Paolini's abiding love of fantasy and science fiction inspired him to begin writing his debut novel, Eragon, when he graduated from high school at fifteen. Now nineteen, he lives with his family in Paradise Valley, Montana, where he wrote Eldest, the next volume in the Inheritance trilogy. You can find out more about Christopher, Eragon, and Inheritance at www.alagaesia.com. Gerard Doyle was born of Irish parents and raised and educated in England. He has appeared in productions in London's West End as well as The Weir on Broadway. He has toured internationally with the English Shakespeare Company, and his television credits include Law & Order, New York Undercover, and BBC's 2.4 Children. He is an award-winning narrator of audiobooks and resides with his wife and two children in Sag Harbor, New York.

---

Excerpted from Eragon by Christopher Paolini
All rights reserved by the original copyright owners. Excerpts are provided for display purposes only and may not be reproduced, reprinted or distributed without the written permission of the publisher.