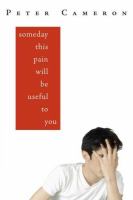 From Someday This Pain Will Be Useful to You

We sat for a moment in silence, and then the waiter delivered our meals. My father glanced at my plate of pasta, but said nothing. He cut into his nearly raw beef and smiled at the blood it drooled. "So," he said, after he had taken a bite, "you're not going to tell me."

"Not going to tell you what?"

"Whether or not you're gay."

"No," I said. "Why should I? Did you tell your parents?"

"I wasn't gay," said my father. "I was straight."

"So, what, if you're gay you have a moral obligation to inform your parents and if you're straight you don't?"

"James, I'm just trying to be helpful. I'm just trying to be a good father. You don't have to get hostile. I just thought you might be gay, and if you were, I wanted to let you know that's fine, and help you in whatever way I could."

"Why might you think I was gay?"

"I don't know. You just seem – well, let's put it this way: you don't seem interested in girls. You're eighteen, and as far as I know you've never been on a date."

I said nothing.

"Am I wrong? Or is that true?"

"Just because I've never been on a date doesn't mean I'm gay. And besides, no one goes on dates anymore."

"Well, whatever – normal kids hang out. They go out."
---

Excerpted from Someday This Pain Will Be Useful to You by Peter Cameron
All rights reserved by the original copyright owners. Excerpts are provided for display purposes only and may not be reproduced, reprinted or distributed without the written permission of the publisher.