Chapter Excerpt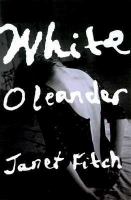 Astrid is the only child of a single mother, Ingrid, a brilliant, obsessed poet who wields her luminous beauty to intimidate and manipulate men. Astrid worships her mother and cherishes their private world full of ritual and mystery but their idyll is shattered when Astrid's mother falls apart over a lover.Deranged by rejection, Ingrid murders the man, and is sentenced to life in prison. White Oleander is the unforgettable story of Astrid's journey through a series of foster homes and her efforts to find a place for herself in impossible circumstances. With determination and humor, Astrid confronts the challenges of loneliness and poverty, and strives to learn who a motherless child in an indifferent world can become.

---

Excerpted from White Oleander by Janet Fitch
All rights reserved by the original copyright owners. Excerpts are provided for display purposes only and may not be reproduced, reprinted or distributed without the written permission of the publisher.