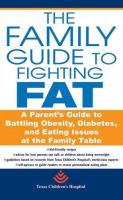 Excerpt
The obesity epidemic is the number one public health crisis in the United States. Doctors, dietitians, and scientists have all explored many aspects of the problem characterized as being overweight or obese. The number of children who fall into these categories has nearly doubled in the last ten years. Unfortunately, no one has found a magic wand that will instantly make someone fit, but we have identified certain traits that help people find success along the road to better health.
Studies show that in order to change behaviors and habits, people must first believe they are capable of doing so. Your attitudes about healthy eating, exercise, and weight loss are your key to success because your motivation and commitment are a major influence on the success or failure of changing your eating, exercise, and food-buying habits.
Another part of that success is your family and your family's ability to work together to increase activity and improve eating choices. Studies show that a child's weight—which is directly affected by behaviors and habits—is more likely to change when all the family members adopt the same healthy routine. Consistent efforts by all family members support the child while also improving the entire family's health. Basically, healthy habits must become a way of life for your whole family. Using This Book as Your Guide
The Family Guide to Fighting Fat is arranged to help you create a personalized plan for changing old habits and developing new, healthier ones.
The first step in making lifestyle changes is to develop an awareness of your family's current health status, eating behaviors, and activity levels. This awareness will help you make the changes you need to make to improve your family's health. The Family Assessment Tool below is designed to help you see and keep track of current patterns of behavior for you and your family. Take some time now to do the assessment. You will be using this information in Chapter 1 to help determine your family's readiness for change, the starting point for creating a personalized road map for success.
You will also want to examine which parenting and communication skills you will need to create change for improved health and weight loss. It will help to identify potential roadblocks on the path to success. Take time to consider all the outside factors that contribute to your family's ability to commit to a lifelong change. Think honestly about how committed you and various family members are to change.
Finally, you will need to set realistic goals and make health-conscious decisions for your family. The first chapter explains how to get started on the road to success, and each chapter continues to help you and your family set achievable goals. Where Are You on the Road?
At the beginning of each chapter is a "ROAD" questionnaire. The acronym ROAD stands for
• Role modeling, or the influence parents and family members have in shaping the food and exercise beliefs of a family.• Organizing and creating opportunities for improved health behaviors, which may be as simple as a grocery list or planning a family outing.• Availability and accessibility of healthy food choices, because families cannot consume healthy foods if they are not available in the home or cannot be accessed easily by all family members.• Decisions must be made along the ROAD as you focus on changing behaviors that contribute to an increase in weight. These include setting goals, removing roadblocks, and taking detours when necessary. The questions at the beginning of each chapter will assist you in evaluating your family's health, eating behaviors, and exercise habits, identifying roadblocks and barriers to success, and setting family goals. The second part of the book will help you do the same for your children, according to age group.
Think of a time when you have planned a family trip. You start with a map and get ready to go. With each self- or family quiz, you will be asked to score where your family is. Some families are truly just getting started on the ROAD to success. If your score is less than 4, you are beginning to look at the map and plotting strategies to improve your health. If you score between 4 and 8, your journey has begun, but be aware of the roadblocks in order to make it to your destination. If your score is between 9 and 12, you are well on the ROAD to better health, and your efforts should be directed toward staying the course and avoiding detours that may hinder you from reaching your destination.
Putting It All Together
Chapter 1 provides you with background information about the principles of the ROAD and how to examine where you and your family are on the ROAD to success. It includes a process and tips for finding and writing simple, achievable goals.
At the end of the remaining chapters, you will be able to reexamine your habits in light of new information provided in that chapter. You can look back at the answers you marked on the questionnaire at the beginning of the chapter and consider ways to create change. These chapters also provide examples of goals that might be specific to the information in the chapter or to the age of the children in your family.
After you have reviewed and written goals for all the chapters—including those for children of specific ages in Part II—you can create a combined list of all your goals on page 244.
When you have done that, you are to be congratulated. You have taken the first step in creating a plan for healthy change for your family based on your personal needs, habits, and abilities. Your goals can help you modify your current behaviors and track your success. Specifically, your family can learn to make a few small, permanent changes at a time. Once you are comfortable with them, review and make additional changes—but only after the previous changes are firmly in place.
By taking smaller steps that become new, healthy habits, you can create positive, lasting change. Be patient with yourself on this journey and you'll be amazed at how great your accomplishments can be! The ROAD to success awaits you and your family. Copyright © 2007 by Texas Children's Hospital. All rights reserved.

---

Excerpted from The Family Guide to Fighting Fat: A Parent's Guide to Handling Obesity and Eating Issues by Texas Children's Hospital Panel
All rights reserved by the original copyright owners. Excerpts are provided for display purposes only and may not be reproduced, reprinted or distributed without the written permission of the publisher.