Chapter Excerpt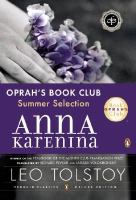 Sensual, rebellious Anna falls deeply and passionately in love with the handsome Count Vronsky. When she refuses to conduct the discreet affair that her cold, ambitious husband—and Russian high society—would condone, she is doomed. Set against the tragic love of Anna and Vronsky, the plight of the melancholy nobleman Konstantine Levin unfolds. In doubt about the meaning of life—a mirror of Tolstoy's own spiritual crisis—Konstantine is haunted by thoughts of suicide. A magnificent drama of vengeance, infidelity, and retribution, Anna Kareninatells the story of two characters whose emotional instincts conflict with the dominant social mores of their time. "Considered one of the pinnacles of world literature." —Merriam-Webster's Encyclopedia of Literature Count Lev (Leo) Nikolayevich Tolstoy was born in Russia in 1828. His parents, who died when he was young, were of noble birth. He served in the army in the Caucasus and Crimea, where he wrote his first stories. In 1862 he married and in 1869 produced the masterpiece War and Peace. He died in 1910 at age 82. Nadia May is one of the pioneers of audiobook narration, with twenty-five years of recording and over 600 titles to her credit. Named one of AudioFile'sGolden Voices, she has won fourteen Earphones Awards. She is also a well known stage actor in the San Francisco Bay area, where she lives with her husband and two badly behaved dogs.

---

Excerpted from Anna Karenina by Leo Tolstoy
All rights reserved by the original copyright owners. Excerpts are provided for display purposes only and may not be reproduced, reprinted or distributed without the written permission of the publisher.