Author Notes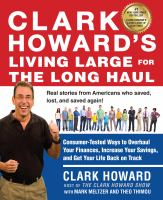 Clark Howard is the host of the consumer advocate radio program The Clark Howard Show, HLN's money expert and host, and a #1 New York Times bestselling author.
Mark Meltzer is executive editor at Atlanta Business Chronicle and lives in Atlanta.
Theo Thimou is director of content for ClarkHoward.com and lives in Atlanta.