Author Notes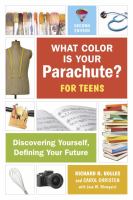 Carol Christen is a career strategist who has provided life/work planning since 1979. Specializing in working with teenagers, Carol lives along California's Central Coast.
Richard N. Bolles has been a leader in the job-hunting field for more than thirty-five years. Author of the best-selling career book What Color Is Your Parachute?, Bolles lives in the San Francisco Bay Area. Visit www.jobhuntersbible.com.
Jean M. Blomquist is a freelance editor and writer with experience as a college admissions counselor.