Author Notes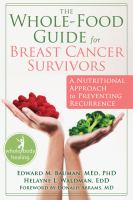 Edward Bauman, MED, PHD, is the president and founder of Bauman College: Holistic Nutrition and Culinary Arts. He is a groundbreaking leader in the field of whole-food nutrition.
Helayne Waldman, MS, EDD, is a holistic nutrition educator in private practice and a consultant to breast cancer clinics and doctors in the San Francisco Bay Area.
Foreword writer Donald I. Abrams, MD, is professor of clinical medicine at the University of California, San Francisco, and chief of hematology/oncology at San Francisco General Hospital.