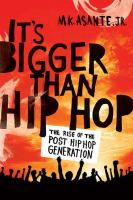 Book list
From Booklist, Copyright © American Library Association. Used with permission.

Asante (b. 1982) decries the negativity of much of mainstream hip-hop. Though people his age were born into the hip-hop generation, they feel misrepresented by it and . . . see the dangers and limitations of being collectively identified by a genre of music they don't even own. Their lack of ownership . . . has allowed corporate forces to overrun hip-hop with a level of misogyny and black-on-black violence that has led some young folks to disown the label - hip-hop generation.' A similar argument could be made about nearly every underground movement that achieves pop-music supremacy, but Asante feels mainstream marketing of hip-hop has robbed his generation of a valuable voice for enunciating social and political criticism and made the music a conservative instrument, promoting nothing new or remotely challenging to mainstream cultural ideology. He declares that post-hip-hop, rather than marking the death of rap, represents a shift to a more inclusive movement incorporating culturally significant subject matter. Weighty, probably vital reading for keeping up with youth culture and pop music.--Tribby, Mike Copyright 2008 Booklist
---
Choice
Copyright American Library Association, used with permission.

As a movement, hip-hop defined an era of struggle voiced through a variety of music and dance expressions that included, but was not limited to, rap, scratch, and break dance. These struggles occupied the energy of an entire generation of youth, from all racial groups in the US, and were emulated by others in countries around the world. Asante (English and language, Morgan State Univ.) relates how youth in movements in the post-hip-hop era (the 1980s-90s) were committed to social justice in the US, with their chanting of "el pueblo unido jamas sera vencido" (united people will never be conquered). Asante's writing is lucid, and he spikes the book with black-and-white photographs of events and individuals. Great reading for all who are interested in struggles in the US. Summing Up: Recommended. Lower- and upper-division undergraduates; graduate students. Kazadi wa Mukuna Kent State University
---
Library Journal
(c) Copyright Library Journals LLC, a wholly owned subsidiary of Media Source, Inc. No redistribution permitted.

As the title suggests, poet Asante (creative writing, Morgan State Univ.; Beautiful. And Ugly Too) looks at hip-hop as not just a type of music but a cultural force. He envisions hip-hop--a phrase probably derived, he notes, from the African Wolof word hipi, to open one's eyes and see, and an Old English word that means to spring into action--being used as a tool for social change. Hip-hop started in the poor, urban African American community of the Bronx, NY, in the 1970s and was rooted in social activism. Asante argues that contemporary mainstream hip-hop does not adequately address the issues of the black community and that artists (or "artivists") who deal with real social issues (e.g., poverty, drugs, police brutality) are censored by the larger corporations that control and own the distribution of music. Asante expertly blends historical information about hip-hop and the civil rights movement with personal narrative, interviews with artists, and quotations from civil rights leaders and classic poetry to create an original and daring work. This well-researched book is recommended for public and academic libraries.--Jennifer Zarr, Countee Cullen Branch Lib., New York (c) Copyright 2010. Library Journals LLC, a wholly owned subsidiary of Media Source, Inc. No redistribution permitted.
---
Kirkus
Copyright © Kirkus Reviews, used with permission.

Positive young artist tries to show the way forward for oppressed African-Americans. Asante (Creative Writing/Morgan State Univ.; Beautiful. And Ugly Too, 2005, etc.) joins the throng of idealistic young academics, black and white, desperate to find messages of hope and change amidst the monotonous bluster and carnage of much hip-hop. He dutifully trots out lyrics from artists who don't fall into gangsta clichs, such as the Roots and ghetto-insurrectionists Dead Prez, the latter interviewed at length. He rightly bemoans the way in which hip-hop's calls for change have been swallowed by the white-owned consumerist maw. He's also correct in noting the ways in which the modern media-corporate-government Panopticon creates a near-inescapable matrix of oppression, from racist drug laws to for-profit prisons, that keeps black America in the ghetto. Unfortunately, Asante is a mere echo chamber of other people's ideas, which he doesn't present especially well. His sloppiness of thought begins with the book's thesis—the "post hip hop generation" is hardly ever identified, much less shown to exist outside the author's hopeful imagination—and continues throughout. He scatters lazy generalizations as he leaps among such hot-button topic as the Rockefeller drug laws, police racism and white ownership of rap labels. He offers little in the way of coherent argument, instead simply stringing together paraphrases and references so that one quote contends with another quote. There may be a post-hip-hop generation of activists out there, ready to lead the charge for change, but Asante has certainly not located or identified it. The right message, blurred to near illegibility by misdirected energies. Copyright ©Kirkus Reviews, used with permission.